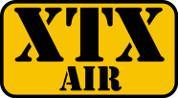 XTX Air Stickers
XTX Air
00161
This is for a pair of XTX Air vinyl stickers.
The large stickers are around 62mm wide x 35.5mm high.
These are ideal for sunshades, gun cabinets and tool boxes etc.
The small stickers are around 19.5mm wide x 11mm high.
These are ideal for fitting to the side of the action, breech blocks etc
For the best results, make sure the surface they are being stuck to is dry and thoroughly de-greased before sticking them to anything.
If you are buying any goods from the eShop you will get stickers for free, there is no need to buy any.