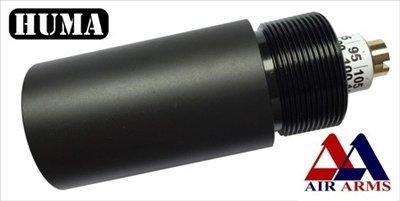 S200/CZ 200 HuMa Regulator - External - DIY Fit
HuMa Air
HUMA 200 EX
This is for a DIY fit HuMa external regulator for your Air Arms (CZ) S200. It is matt black to blend in with your air cylinder, it has a pressure scale to show you the approximate pressure setting. It is best suited to people who have rifles with no anti-tamper and who know how to adjust the power to keep the rifle legal.
Please note that the regulator can only be fitted to the S200s (CZ 200) with Quick Fill, the regulators can't be back filled. If your cylinder has to be removed to fill it, then you will need your cylinder modifying/converting to Quick Fill to allow the regulator to be fitted. You can fit the standard Air Arms quick fill, HuMa quick fill or you can replace your standard gauge with an XTX S200 gauge & quickfill.
Because this regulator fits between the brass firing valve body and the air cylinder, it adds 45mm to the overall length of the air cylinder. Please measure your existing setup to make sure your silencer/stripper/diopters will still fit with the extra length on the cylinder. If you don't have enough clearance then the internal S200 regulator would be a better option for you.
There is a cylinder clamp, a hex tool and a round tool available from the eShop that can help you to get the brass firing valve body off without scratching it, the ends of the cylinder are normally very tight. 
Before ordering a regulator, please make sure:
you have made yourself familiar with the fitting instructions,
you are happy to carry out the necessary work,
you are able to adjust your power to keep your rifle legal,
you have the necessary tools to carry out the work,
you will need access to a chronograph to set the power once the regulator has been fitted.
The regulator does not come with any printed fitting instructions, the instructions are on my website.
They weigh approximately 145 grams.
Please don't set your rifle over the legal limit in your country or state.