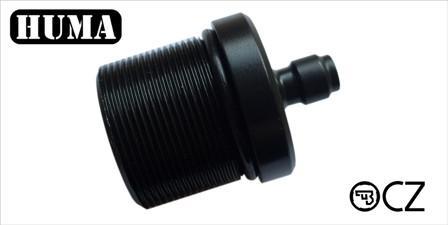 S200/CZ 200 Quickfill - HuMa
HuMa Air
HUMA QF
This is a basic HuMa Air fill valve for the Air Arms S200 or CZ 200. 
It is made out of steel that has been blued. It has a male port to suit a foster/snap coupler type fill adaptor, like the ones used by Best Fittings, Daystate and Brocock etc. It does not come with the female snap coupler fill adaptor, you will need to source one of these elsewhere. It does come with a little rubber grommet/cover to keep the dust out of the fill valve. The actual fill valve is very easy to DIY service. 
These are ideal for people who have the Target version of the S200/CZ 200, that want to fit a regulator, which is not possible because of the standard pressure gauge. The other option is for people who want to reduce the overall length of their air cylinder, since the standard fill ports and cover or gauge can add quite a bit of length to the air cylinder. 
You may want to order an S200 cylinder tool to remove the original end of your air cylinder, they can be extremely tight sometimes. 
These weigh approximately 80 grams.