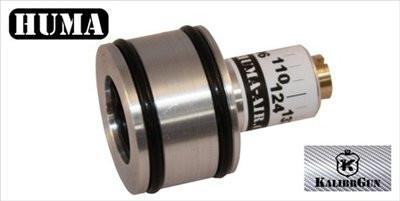 KalibrGun Cricket HuMa Regulator - DIY Fit
HuMa Air
HUMA Cricket
This is for a DIY fit HuMa internal regulator for the KalibrGun Cricket, which replaces the standard regulator. It is best suited to people who have a good understanding of their rifles and know how to adjust the power once the regulator has been replaced.
This regulator is vented to the atmosphere without any modification to your pressure tube/air cylinder. So no drilling of the tube and also no creeping up in power.
Made of high grade 7075 Aluminium. Every regulator is manually assembled, tested and adjusted to the requested pressure. Of course the regulator can be easily be user adjusted up or down in pressure if needed.
You do not receive fitting instructions with the regulator, please have a look at the fitting instructions before ordering the regulator to make sure you are confident that you will be able to install it. The fitting instructions can be found on the HuMa Air website Installation Guides 
You will need access to a chronograph to set your power after fitting the regulator.
Please do not exceed the legal limit for your country.