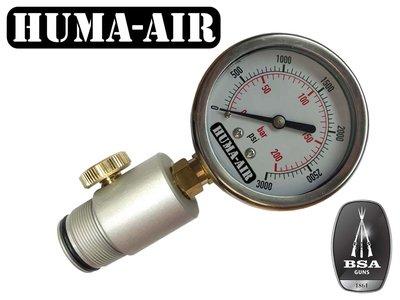 HuMa Regulator Tester - BSA/S200 Regulators
HuMa Air
HUMA TEST BSA
This regulator tester was brought out because there was a demand for a tester for the enthusiasts and tuners that fit, service and repair HuMa regulators for BSAs and CZ200/S200 rifles. 
It has a large 200bar gauge/manometer for reading the regulator pressure, a bleed screw to simulate shots being fired. You screw the regulator onto the tester by hand, screw your air cylinder onto the regulator by hand, fill the cylinder with air and the gauge will read the regulator pressure. You can then simulate shots being fired by pulsing the bleed screw on the tester. 
The tester is suitable for testing up to 200bar. Please do not exceed 200bar when testing because the gauge/manometer is only rated to 200bar..
It will fit most BSA Ultra, Ultra SE, Scorpion, Scorpion SE, Goldstar SE, Hornet, Air Arms S200, CZ200 and Gamo Dynamx regulators, it will not fit any other regulators.
If in doubt, please send me a message to confirm the tester will be suitable for your needs
There is a different regulator tester available from the eShop that is suitable for testing HuMa internal regulators.