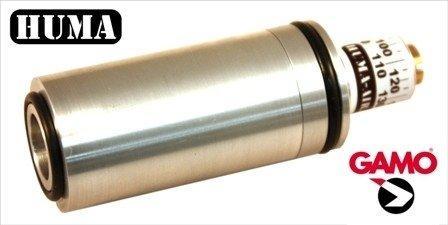 Gamo HuMa Regulator - Internal - DIY Fit
HuMa Air
HUMA GAMO
This is for a no-drill DIY fit HuMa internal regulator for the Gamo Coyote, Chacal, Urban and Phox, it will also fit the BSA Buccaneer and Ultra XL. It is best suited to people who have rifles with no anti-tamper or if you know how to adjust the power to keep the rifle legal.
Because this regulator fits inside the air cylinder it makes no difference to the overall length of the air cylinder. You also don't need to drill a hole in your air cylinder, unlike some other regulators on the market. 
For more details about the regulator have a look on the HuMa Air website.
Before ordering a regulator, please make sure:
you have made yourself familiar with the fitting instructions on the "Fitting Instructions" page on the website,
you are happy to carry out the necessary work,
you are able to adjust your power to keep your rifle legal,
you have the necessary tools to carry out the work,
you will need access to a chronograph to set the power once the regulator has been fitted.
The regulator does not come with any printed fitting instructions, the instructions are on my website. Also bear in mind that any video/s you may have watched on YouTube before visiting the eShop may not be the complete fitting instructions, please refer to the full fitting instructions on my website.  
The FAC firing valve mentioned in the fitting instructions can be purchased from www.airgunspares.com, it is part number 16-9029 
Please don't set your rifle over the legal limit in your country or state.