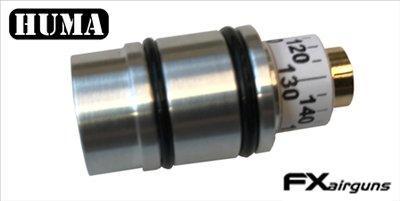 FX Boss/Royale/Bobcat HuMa Regulator - Internal - DIY Fit
HuMa Air
HUMA FX1
This is for a DIY fit HuMa internal regulator for your FX Boss, Royale and Bobcat. It replaces the existing standard FX regulator, it is not intended to fit rifles that do not already have a standard FX regulator, the unregulated rifles need some other parts to make them work in the same way as the regulated rifles. It is best suited to people who have rifles with no anti-tamper or the owner knows how to adjust the power to keep the rifle legal. The regulator pressure is user adjustable, which allows you to fine tune the pressure to suit the type of tune you have opted for.
You simply need to remove your old standard regulator and fit the new HuMa regulator in it's place, adjust the power to suit and you are good to go. If you have anti-tamper fitted to your rifle and/or you do not know how to adjust the power on your rifle then please seek the advice of a professional or have a look at some of guides on YouTube.
Before ordering a regulator, please make sure you have made yourself familiar with the fitting instructions on the Fitting Instructions page on the website, you are happy/able to carry out the necessary work and you are able to adjust your power to keep your rifle legal.
For more information about the regulators please have a look on the HuMa Air website.
There are some very good guides and tutorials on YouTube which will help you get the most out of your rifle once it has been regulated.
The regulator does not come with any fitting instructions, you will need to follow the fitting instructions linked to above and also follow the guides/videos on YouTube.
You will need access to a chronograph to set your power after fitting the regulator.
Please do not exceed the legal power limit for your country.