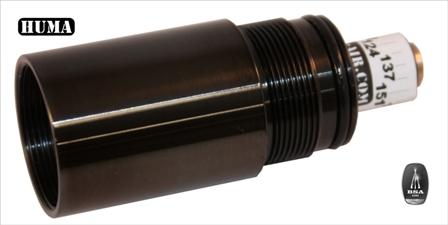 BSA HuMa Regulator - DIY Fit
HuMa Air
HUMA BSA
This is for a DIY fit BSA HuMa regulator for the Scorpion, Ultra, Goldstar SE, Hornet, Lonestar and Gamo Dynamax.
The regulator fits between the air cylinder and firing valve body. It adds 36mm to the length of the air cylinder, please bear this in mind before ordering. If the extra length of the air cylinder means your silencer will no longer fit you can use a barrel extension (available from the eShop), which will allow the silencer to clear the air cylinder.
The regulators are pre-set to suit your calibre and power level, please select the correct option when ordering. Generally the sub 12ftlbs Ultra has a 12" barrel, the sub 12ftlbs Scorpion and Hornet have a 15" barrel an the FAC/Export rifles have an 18.5" barrel. The barrel length is measured from the breech (magazine slot/where the pellet is loaded into the barrel) to the end of the muzzle.
This is not for the Ultra SE or Scorpion SE, please see the Ultra/Scorpion SE listing for more details.
I also sell a kit of parts to help out the people who may not have the tools/time to drill out their current transfer port and shorten/replace their current hammer spring. 
Before ordering a regulator, please make sure:
you have made yourself familiar with the fitting instructions on the "Fitting Instructions" page on the website,
you are happy to carry out the necessary work,
you are able to adjust your power to keep your rifle legal,
you have the necessary tools to carry out the work,
you will need access to a chronograph to set the power once the regulator has been fitted.
The regulator does not come with any printed fitting instructions, the instructions are on my website. Also bear in mind that any video/s you may have watched on YouTube before visiting the eShop may not be the complete fitting instructions, please refer to the full fitting instructions on my website.  
Fitting Instruction Summary (please refer to the full instructions before doing any work):
Drain down all the air in the rifle,
Strip action to replace/drill out the transfer port,
Remove the brass restrictor from the firing valve,
Fit the regulator,
Check and set the power to make sure it is legal.
You will need access to a chronograph to set your power after fitting the regulator.
Please do not exceed the legal power limit for your country.
They weigh approximately 115 grams