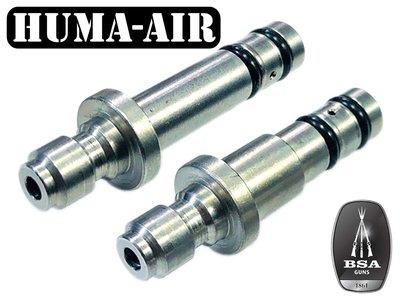 BSA fill probe/adaptor - Quick Couple HuMa
HuMa Air
00056 BSA
BSA Filling Adaptor.

Quick Fill Charging Probe.

Suitable for BSA Hornets, Scorpions, Ultras, R-10 & High Fill Spitfire & Firebird.
They can also be used with the XTX & HuMa pressure gauge & QF that I sell for the S200 and BSAs.
They are made of stainless steel and have a Best Fittings style male quick couple connection, rather than an 1/8" BSP thread, so you can connect it directly to your female quick coupler on your fill hose. Please note it does not include the female snap coupler, you will need to purchase these elsewhere, you are just buying a fill probe. If you don't have a Best Fittings style quick coupler then you may want to consider the standard BSA fill probe in the eShop.  
Please note: this is for the standard probe (top left in picture), not the stepped probe (bottom right in picture).
Use a product like Abbey SM50 on the O rings from time to time to make the probe slide in and out smoothly and to prolong the life of the probe O rings.
The BSA probe can be used to fill the Steyr LG110 quick fill cylinders if you are caught short.
These are made by HuMa Air. I also sell standard probes and RAT Works probes.