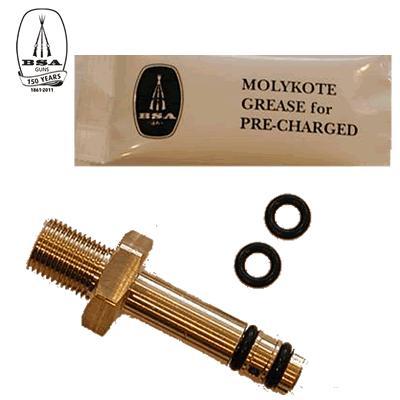 BSA fill probe/adaptor - Long
BSA
00055
BSA Filling Adaptor.

Quick Fill Charging Probe.

Suitable for BSA Hornets, Scorpions, Ultras, R-10 & High Fill Spitfire & Firebird.
They can also be used with the XTX pressure gauge & QF that I sell for the S200 and BSAs.
They are made of brass and have an 1/8" BSP thread on the end to allow it to fit to your pump/fill hose.
Please note I often remove the little sachet of BSA lube from the pack because it is not good for your rifle. If you want me to leave it in them please let me know but you have been warned, it is not a good product to be using on your rifle. Use a product like Abbey SM50 on the O rings instead. 
The BSA probe can be used to fill the Steyr LG110 quick fill cylinders if you are caught short.