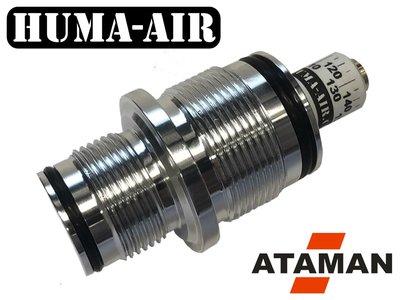 Ataman/Tsar HuMa Regulator - DIY Fit
HuMa Air
HUMA ATAMAN
This is for the latest version DIY fit HuMa regulator to replace the standard regulator in your Ataman M2R or Daystate Tsar.
This regulator is very easy to install; drain down your air, unscrew your existing regulator, screw in the new HuMa regulator, check and adjust the power and you are done. .
This regulator is vented to the atmosphere without any modification to your pressure tube so no need to drill the air cylinder.
The regulator is CNC produced out of high grade 7075 Aluminium. Every regulator is manually assembled, tested and adjusted to the requested pressure. The regulator can also be user adjusted up or down in pressure if needed
Fitting instructions can been found on the HuMa Air website here. No fitting instructions are provided with the regulator.
Before ordering a regulator, please make sure you have made yourself familiar with the fitting instructions on the "Fitting Instructions" page on the website, you are happy to carry out the necessary work and you are able to adjust your power to keep your rifle legal. You will need access to a chronograph to set the power once the regulator has been fitted.
Please make sure you do not exceed the legal power limits of your country or state. In the UK the maximum legal power without a FAC is 12ftlbs.