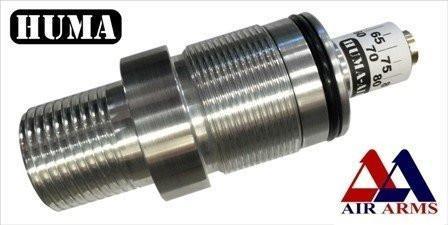 Air Arms EV2/FTP900 HuMa Regulator - DIY Fit
HuMa Air
HUMA FTP
This is for a DIY fit HuMa regulator for your Air Arms EV2 (all models) and FTP900. After some feedback from customers, this regulator will also fit the Pro Target. It is best suited to people who know how to adjust the power of their rifle to keep it legal, which may mean removing the anti-tamper. The regulator pressure is user adjustable from 70-110bar, which allows you to fine tune the pressure to suit the type of tune you have opted for. If you need a regulator with a 110-150bar pressure setting range please leave a note in the checkout. 
A DIY fit regulator is useful if you do not want to post the complete action and you are familiar with the workings of your rifle, including making power adjustments.
If you have anti-tamper fitted to your rifle and/or you do not know how to adjust the power on your rifle then please seek the advice of a professional or have a look at some of the guides on YouTube.
EV2: Your standard pressure gauge can no longer be used/fitted when you fit this regulator. You will either need to count your shots or you can fit an FTP900/aftermarket pressure gauge to the end of your cylinder. Because this regulator is more compact than the original Air Arms regulator you will not be able to use the standard barrel band/stripper combo, the barrel will need to be free floated.
FTP900: You can still use your pressure gauge on the end of the air cylinder and it will read cylinder pressure, as normal. You can either use the original shroud assembly or you can free float your barrel after fitting the HuMa regulator. Typically the regulator needs to be set around 85bar for the FTP900.
The air cylinder does not need to be drilled when fitting this regulator, the regulator vents to atmosphere through the regulator body.
Before ordering a regulator, please make sure you are happy/able to carry out the necessary work and you are able to adjust your power to keep your rifle legal.
The regulator does not come with any fitting instructions but there are a couple of fitting guides on the fitting instructions page of the website.
In some cases you may need to polish/hone the inside of the air cylinder, where the new regulator seats, due to the extrusion/machining marks and scratches inside some cylinders. If you shine a torch into your cylinder you should be able to see if the inside of the air cylinder is smooth, if not then you will need to polish it up to give the regulator O ring a good sealing surface. 
Tools to hold/clamp the Air Arms air cylinder and to loosen the quickfill are available from the eShop.
You will need access to a chronograph to set your power after fitting the regulator.
Please do not exceed the legal power limit for your country.